To me the biggest failure of Jazz historians has been the refusal to acknowledge Hip Hop and its use of Jazz in its samples and use America's most popular musical style as a vehicle to introduce Jazz to new generations of listeners. Beyond Wax Poetics and Blue Note barely anyone in power is acknowledging the Jazz of the late 60's and early to mid 70's that make up a lot of the samples that Hip Hop's top producers have been sampling for years. Instead, the people in charge of Jazz Appreciation textbooks and PBS documentaries look at the late 60's and beyond as the period Miles Davis went Fusion and not much else happened. Meanwhile legions of Hip Hop and even Electronic music fans have dug beneath the surface and discovered not just Jazz, but also R&B, Funk and Soul by following the samples of their favorite tracks. A cult phenomenon fueled by mixes put together by well-schooled diggers, Blue Note compilations and Wax Poetics magazine.
Wax Poetics
is the bible of the modern urban music fan who is as into the Mizell Brothers, Lee 'Scratch' Perry and Herbie Hancock as they are into The Roots, De La Soul and 4 Hero. People with curiosity or knowledge of the 60's & 70's and ears towards what's new, but enough experience to smell thru whatever flavor of the month Source and Urb are hyping.
Blue Note
of course has a stake in keeping their back catalogue alive and has done a great job by aligning themselves with the sample curious Hip Hop fans and providing them with numerous compilations that can act as a gateway into the world of Jazz. In the early 90's Blue note started with the
Blue Break Beats
series of comps which reached to four volumes. This month they have released
"Droppin' Science: Greatest Samples From The Blue Note Lab"
and Giant Step was nice enough not only to give it an informational write up complete with lists of the tracks that sampled these classics, but a great J. Rocc mix of the original songs juxtaposed with the sampling tracks. Get it now before they take it down. And in case you are curious about the remix that J. Rocc mixes into the original at a little past 19 minutes, it's a J Dilla remix of "Obilghetto" by Brother Jack McDuff and it's available at
Dilate.Choonz
. And while we're at it,
here's a mix
made entirely of sampled tracks that Questlove of The Roots made in September of '05 for BBC Radio 1.
The track listing
is about half way down, complete with corresponding sampling artist. Now, imagine if your college Jazz Appreciation instructor and Ken Burns had spent just a tiny bit of time attempting to bridge the gap between todays sample based music and the Jazz it sampled. Generation X & Y would be much further along in discovering yesterdays classics. (Imagine how much further along I'd be if I had discovered pouring Budweiser cans into a glass makes it taste less like aluminum and more like a watered down but more palatable beer.) But it's tough to get mad at Ken, I mean look at that haircut..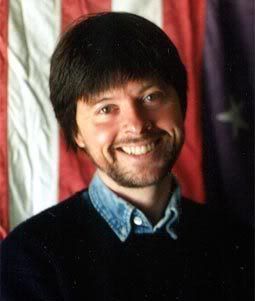 And just so I don't leave you thinking I let everyone else do the work, here's "Jasper County Man" by Bobbi Humphrey off the Blue Break Beats Volume 2 comp and her Mizell Brothers produced album,
"Blacks & Blues"
. "Jasper County Man" was sampled by Digable Planets "Blowing Down", Eric B and Rakim "Keep 'em Eager to Listen" and Ice T "New Jack Hustler".